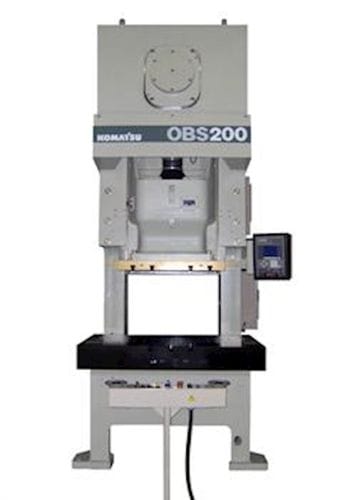 Komatsu OBS 200 Mechanical Press
Item Code: OBS 200
The OBS Gap Frame Press:
Designed for Superior Reliability and Consistency
Ideal for progressive or manual die operations
Superior deflection characteristics
Faster stopping times with actual digital display
Higher production rates in single stroke mode
Improved part quality
Improved die life
The Komatsu Warranty
When a press is desgined as a system, it should be expected to perform as a system without routine tear downs for wear items (the conventional "weak link" in other presses). It's as simple as 1-2-3...Every Komatsu OBS press comes with a full 1-Year parts and labor warranty on everything that moves or glows, an extended 2-Year parts warranty, and a 3-Year frame warranty! Unlike other manufacturers, there is no hourly limit - your press is guaranteed to perform 3 shifts a day, 7 days a week, 365 days a year. With Komatsu systems engineering it's possible to extract the full potential from your press, and the full revenue from every job.
Tech Specs
Capacity 220 Ton
Number of Slide Strokes 25 - 50 SPM
Slide Stroke 9.84"
Die Height 17.7"
Slide Adjustment 4.72"
Slide Dimensions 33.5" (L-R) x 25.6" (F-B)
Bolster Dimensions 57.1" (L-R) x 33.1" (F-B)
Features
A Higher level of Standard Equipment For Increased Performance
Heavy plate, rigid frame and construction
U.S. standard bolster and slide machining
Pneumatic counterbalance
Single-piece, heavy duty cast steel slide
Push-button controlled, motorized slide adjustment
Precision grease (liquified) lubricated long 6-point gibs
Hardened and ground helical gears
High-efficiency AC inverter drive
High-torque wet clutch and brake
Quick-responding, dependable hydraulic overload protector
Shock resistant, pendant-mounted control
T-stand for easy set-up and operation
10 Job memory
Safety block with interlock
Optional Features
Electronic Load Monitor Load monitors are available to continuously monitor loads in all press operations, including blanking, bending, drawing, etc. The monitor also detects die overloads and underloads duing operation. In addition, balanced die load is achieved by measuring the off-center-load, thus extending press and die life.
Emergency Stop Receptacle
Die Cushions
Vibration Isolation Pad
Slide Knockout (mechanical)
Quick Die Change Equipment

Hydraulic die clamps available in either lever or cylinder type
Hydraulic die lifters
Mechanical draw out rails (note: re-machining of "T" slots may be required)

Presence-Sensing Safety Devices
Additional set of 4 Electronic Rotary Cams
Air Ejector with Cam
Adjustable Hydraulic Overload
Quick Die Change Interface
Coil Line Interface
Increased Job Storage Memory
Download Brochure Here: OBS Type 6 Series Catalog