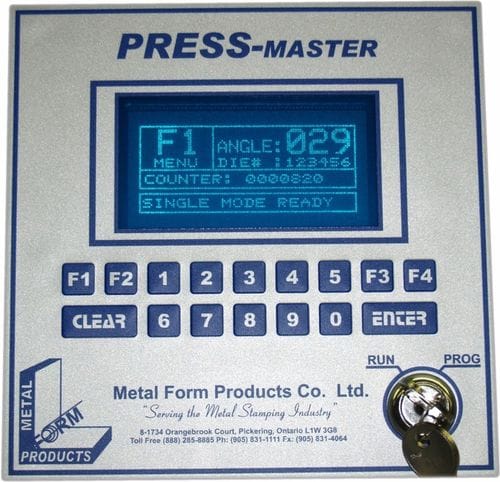 PRESS MASTER 1.5 METALFORM
Item Code: PM 1.5
Controller Overview
The PressMaster PM-1.5 is a Control Reliable Clutch Brake System that uses state of the art technology to incorporate Press Automation features such as Die Protection, Programmable Cams, Tonnage Inputs, (Strain Gauges installation and calibration are extra), Job Memory, Job Counters, Batch Counters, Brake Monitor Variable Speed Compensation and more...
CSA Z 142-10 and ANSI Compliant module.
Modes of Operation include: Inch, Single, Continuous, Continuous Set and "Auto Trip" for slave to feed and/or robotic applications.
Clutch Brake Control is monitored by an eight and a sixteen-bit processor with flash memory.
Direct inputs for up to two operator stations. Expendable to four.
Hand / foot operation selectable.
Plain English press diagnostics.
Separate inputs and messages for light curtains (front and rear), ram block plugs and gate switches.
Rugged, industrial grade resolver with 30' of shielded cable and an Amphenol connector.
Time based brake monitor with, Warning Limit, Fail Limit, Drift and Motion Detection. Monitor features inch mode bypass.
Twelve Programmable Die Protection Inputs with (8) eight modes of operation with individual cams. By-pass for Die Protection, only in inch mode.
Four Programmable Output Cams.
Two additional user selectable outputs. "Oil Lube, Grease Lube, Hydraulic Overload or Cams"
Eight Analog Inputs.
Eight 120 VAC inputs.
Sixteen 24 VDC inputs.
Five Digit Batch Counter with Preset, Current and Remainder Readout.
Seven-Digit Job Counter (does not count in INCH mode).
300 Die Memory with "6" numeric digits transferable to other controllers.
Main Operator Display - 1 3/4" x 3 3/8" Vacuum Fluorescent Display.
Two Internal Displays for System Diagnostics.
Error Messages for Press Diagnostics on Main Display and internal display.
Down Load Brochure Here: Press-Master 1.5 Flyer