Safety Meter
Safety Meter
Semelex II
Brake Performance Tester or Stop Time Meter
OSHA Uses Our Safetimeter...
Shouldn't You?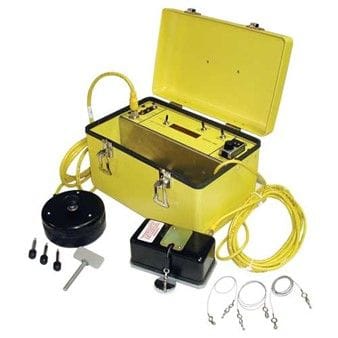 Our newly designed Semelex II Safetimeter Test Set is field proven to accurately measure press stop time and safety distance to verify compliance with federal and state requirements. Designed for harsh industrial environments, the unit is portable, light weight, easy to use, and incorporates new and improved features.
Ruggedized Auto-Hand with New Auto Flag, Plunger Extension and Legs Photo
Ruggedized Auto-Hand Built for pressrooms, it will release a run button or push an E-Stop button to initiate press stop when signaled by the position/velocity transducer.
Redesigned Auto-Flag Connects to the Auto-Hand and is positioned outside the sensing field of personnel safety devices. It initiates press stop by interrupting the sensing zone at a present point in the stroke to check stop time.
Heavy-Duty Position/Velocity Transducer Industrial grade magnets for secure mounting to base and upper bolster. It provides accurate direction, position and velocity signals to the meter for testing press strokes up to 49."
Quick-Charge Battery The unit's built-in battery can be fully recharged in eight hours, or can run off of AC power. You can not over-charge the battery, and a charge indicator signals you when the battery is low.
Two Safetimeters in OneThe same unit can be used to check full or part revolution clutch presses.
Contact Metal Form Products Co Ltd for more information.