LCC HY1 Coil Straightener-Feeders
Item Code: LCC HY1
The standard for high-performance coil straightening is evolving.
The LCC HY1 provides high-level accuracy of steel coil processing with its incorporation of 11 work rolls.
Large straightening roll adjustment wheel
A standard feature of the LCC HY1 coil straightener-feeder is a large straightening roll adjustment hand wheel. Symbols are used for the indicators, improving repeatability and permitting easy numerical setting.
Large improvement in the nature of maintenance
Roll cleaning has become quick and easy with the LCC HY1 coil straightener-feeder via a structure that opens upper and lower doors of the leveler section.
TP-CCS Allen-Bradley Controller
A wide variety of information needed for planning, operation, maintenance, etc., is uniformly controlled under the base mode of "Settings, Planning, Operation, and Maintenance." Equipped with various new operations, it is a complete operating system that responds to diversification and sophistication of merchandise and reduction of work time.
Customers can choose our original TP-CCS or Allen-Bradley Control system.
High precision leveling with 11 work rolls
Oriimec's LCC HY1 coil straightener-feeder increases the standard for coil flatness through the use of 11 work rolls. This coil straightening design supports metal stamping operations requiring high precision and speed.
Specifications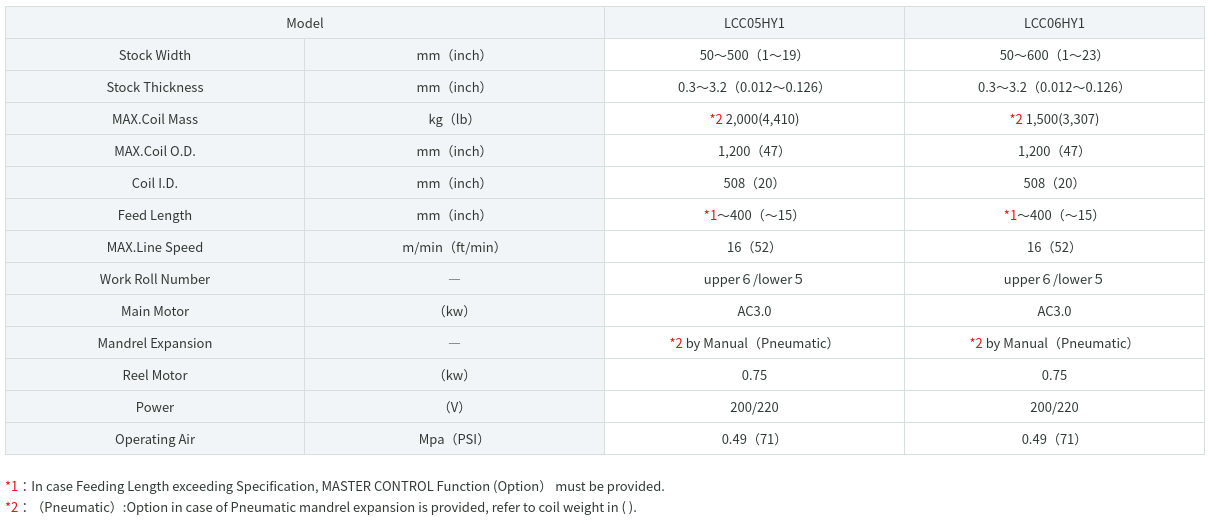 Straightening Performance