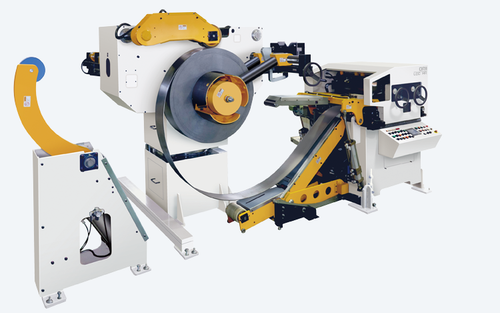 LCE HR3 Coil Straightener-Feeders
Item Code: LCE HR3
For the LCE HR3 series of coil straightener-feeders, simple button operations can make coil material threading and material loop formation automatic. This is a state-of-the-art straightener-feeder that achieves both improvements in work setups and a high level of economic performance. A wide range of specifications can be handled, including material widths of 100 mm (3) to 600mm (23) and sheet thicknesses of 1.0 mm (0.039) to 6.0mm (0.236). Furthermore, the reduction of setup times has also been thoroughly pursued, through the addition of a double uncoiler-type of device. The LCE HR3 coil straightener-feeders offer high-performance coil processing for a variety of metal stamping operations.
Reduction of setup times and improvement of workability and safety
Materials mounted on the uncoiler are automatically threaded up to the straightener exit side until a loop shape is formed, and this leads to shorter setup times. Furthermore, in order to carry out the smooth threading of materials, an auxiliary coil press for preventing coil bulges has been installed as a standard part of the equipment. Also, the pressing of coil material perimeters at four points prevents looseness at the time of coil insertion.
Improved ease of maintenance and economic performance
The LCE HR3 coil straightener-feeder features a new mechanical system that uses air pressure instead of oil for the actuator, improving ease-of-maintenance and performance.
Adoption of PLC control
The LCE HR3 coil straightener-feeder includes a programmable logic controller (PLC) that provides versatility and responsiveness to changing production requirements.