LCC SA Coil Straightener-Feeder
Item Code: LCC SA
Forming the future for straightener/feeders
The straightening roll adjustment wheel has disappeared!
Amada has redefined press automation with the LCC SA coil straightening-feeding machine, fitted with all new technologies, including the first ever Active Straightening Correction (ASC) mechanism.
The LCC SA represents a revolution in new technology for the metal stamping floor.
Active Straightening Correction (ASC)
Given the difference in coil at the beginning of a roll and the end of a roll, it is usually necessary for an operator to always be monitoring straightening operations, and to manually carry out corrections to ensure a high degree of precision in straightening. With the unique ASC mechanism fitted on the LCC SA Series coil straightener-feeder, changes in the coil outside diameter are detected during production. Straightening correction is performed continuously and automatically. Thanks to this innovation, the burden on line operators is reduced, meaning they do not have to be permanently by the machine, thus making a significant contribution to operational efficiency.
Problem solutions
Operators can monitor other lines
Operators can multi-task
Cost reduction
Fitted with 11 rolls
The LCC SA Series coil straightening-feeder machine's ability to provide superior flatness comes from the 6 upper and 5 lower work rolls with a diameter of 48mm(1.8) each. This construction, together with the ASC function, further enhances the reliability of straightening.
Lift and Roll Easy Open Function
Work roll and feed roll are automatically fed into the port opening. In previous models of coil straightening-feeder machines, only one side of the feeder opened, limiting the size of the port and making maintenance of the inner components difficult. With the new Lift and Easy Open Function of the LCC SA Series, the port opening is a maximum 140mm, making cleaning of rolls even easier.
TP-CCS Controller
A wide variety of information needed for planning, operation, maintenance, etc., is uniformly controlled under the base mode of "Settings, Planning, Operation, and Maintenance." Equipped with various new operations, it is a complete operating system that responds to diversification and sophistication of merchandise and reduction of work time.
Specifications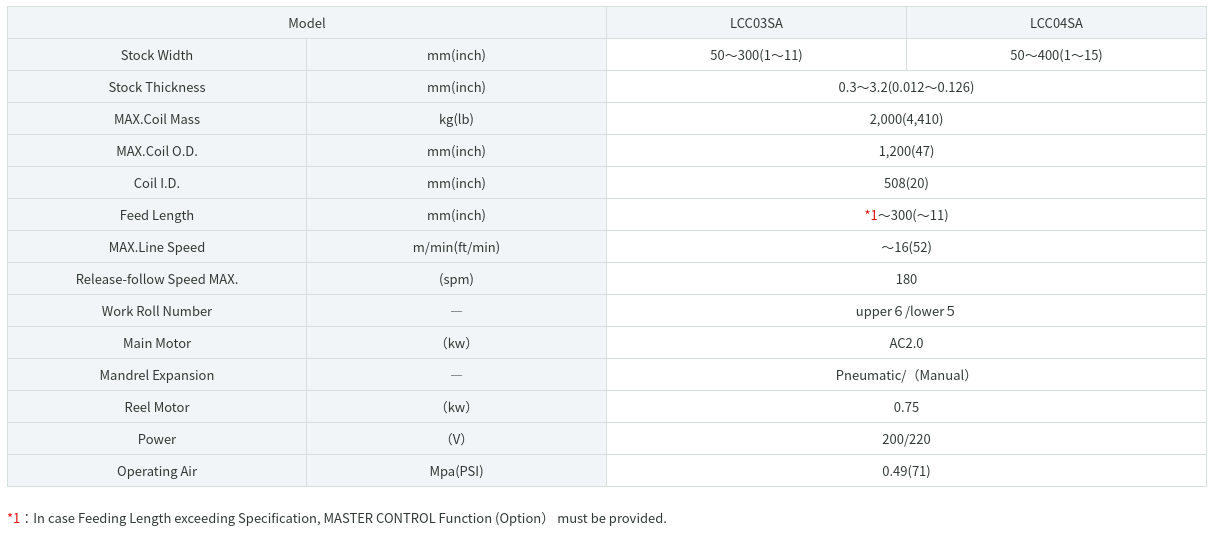 Straightening Performance