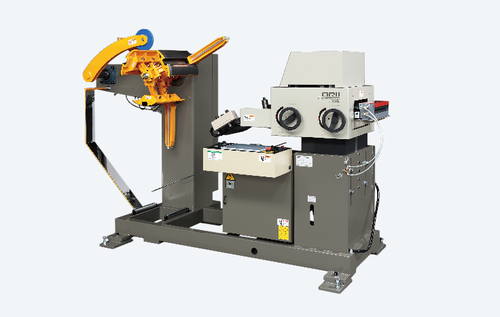 LCC 03KL Coil Straightener-Feeder
Item Code: LCC 03KL
Amada LCC 03KL coil straightener-feeder offers metal stamping operations high-performance in a space-saving design.
New Standard Technology
The KR coil straightener-feeder has an established reputation as the industry standard of feeding technology. The KL model coil line system has been developed by further refining its functions in detail to realize advanced performance, which may be justly called the standard of next-generation straightener-feeders.
In Pursuit of Downsizing
Orii design technology places high priority on the availability of working space. This policy is certainly reflected in the development of the KL coil line system, which has an overall length of 2690 mm. This space-saving design is unrivaled by any other models in the same class of coil straightener-feeders.
Amenity Design for Greater Ease of Operation
The operator's panel is designed to minimize the possibilities of operation mistakes. The entire press stamping work can be arranged easily, giving consideration to job flows. Other features of this coil straightener-feeder include easy operation, maintenance and excellent workability.
Large Straightening Roll Adjustment
The coil line system has been designed with a large straightening adjustment wheel. This allows easy control for the operator.