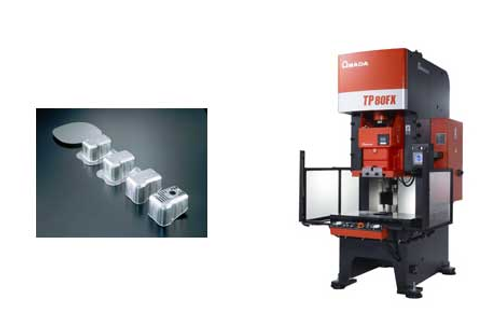 Single Crank Press TP-FX series
Item Code: SCP TPFX
High versatility aiming at leading edge of times
Since its launch, the TP series stamping press has been the stamping machine of choice in numerous press shops.
The TP-FX series has further upgraded the excellent functions of the TP series.
We proactively listened to customers and delivered high accuracy, high productivity, and large energy savings. The
performance-proven best-selling stamping machine that incorporated the latest technology has continued to evolve.
Performance-proven flexibility
TP-FX series stamping presses provide great versatility for automation of single-hit stamping operations, such as blanking, bending and drawing, and of progressive die stamping.
These new, versatile machines comply with ISO 13849 and Power Press Construction Code
Functionality
A TFT color touch screen is fitted as standard and provides better visibility and operability.
Eco-counter and eco-idling functions are provided standard
Eco-counter function: When the production count reaches the preset count, the motor automatically enters the idle condition and draws less power.
Eco-idling function: When its standby time reaches the preset time, the motor automatically enters the idle condition and consumes less power.
Futurity
Visualization of press operating conditions and maintenance information with touch screen PC. Ethernet provided standard.