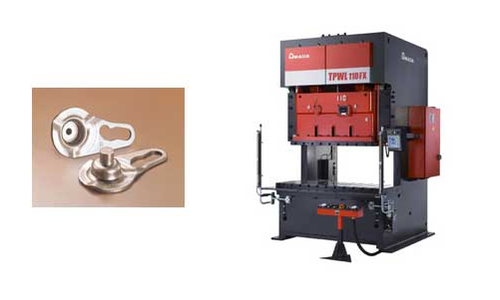 Double Link Stamping Press TPWL-FX series
Item Code: dltpwl-fx
Long-selling double crank stamping presses that meet various customer needs
The TPWL-FX series is a family of double link stamping presses that solve various pressworking problems, such as accuracy, speed noise and expandability.
Flexibility
Highly accurate and productive link mechanism.Various high-rigidity frames can be selected for this stamping machine, including a C-frame featuring excellent operability and easy incorporation in the existing line, a bridge frame to combine operability and high rigidity, and a straight-side SF frame.
Futurity
Visualization of press operating conditions and maintenance information with touch screen PC. Ethernet provided standard.
Functionality

A TFT color touch screen is fitted as standard and provides better visibility and operability.
Eco-counter and eco-idling functions provided standard
Eco-counter function: When the production count reaches the preset count, the motor automatically enters the idle condition and draws less power.
Eco-idling function: When its standby time reaches the preset time, the motor automatically enters the idle condition and consumes less power.