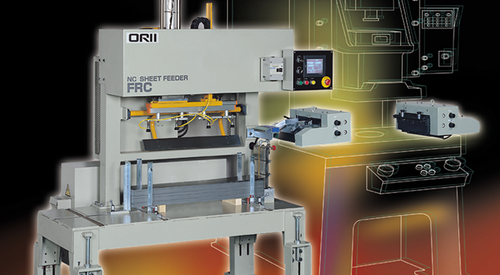 FRC Series Press Feed
Item Code: FRC
The FRC Series sheet feeder features an efficient design that works closely with compact presses.
This press feeder is specifically engineered to meet the growing need for multi-product, variable-quantity production.
New system for stock transfer with a compact design
Stock is directly transferred to the feeder after being vacuum-removed from the stacker. A newly-developed handling mechanism is used to eliminate the extruding table and reverse cylinder. This enables dramatic downsizing of machinery and reduction of costs, while improving the working environment around the press and contributing to improved safety and work efficiency.
Compact control panel with touch panel
Includes an LCD touch panel display for a more compact operation panel. This allows a variety of monitor functions and simple configuration of settings.
Reliable NC roll feeder
The feeding unit uses our tried and trusted AFH NC Roll Feeder. The unit supports a wide range of stock, with widths from 200 mm(7) to 500 mm(19), and thicknesses up to 3.2 mm(0.126). The total height has been reduced to support compact presses and enable the machine to be brought as close as possible to the die.
Data memory function
Includes newly-developed dedicated control. A maximum of 50 sets of product data can be stored in the memory, including the feed length and feed count, making this product useful when changing stock trays.