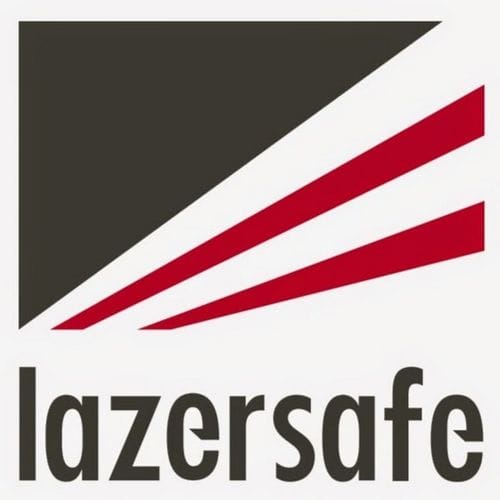 LAZERSAFE
Item Code: LAZERSAFE
Sentinel Optical Protection
The Sentinel laser transmitter and receiver are mounted to the upper beam of the press brake. A continuous dual laser field protects the zone directly below the punch tip allowing the operator to hold the work piece as the tools close at high speed. If an obstruction is detected the machine is automatically stopped.
This close proximity protection allows the operator unrestricted access to the point of operation for increased productivity and unlike traditional light curtains, reduces fatigue by enabling the operator to remain standing in the same position.
Key Features
Technology
RapidBend-SmallRapidBend
RapidBend technology employs a patented progressive muting process that enables the press brake to close safely at high speed until the tool opening is only 6mm. This reduces the slow speed travel distance to enhance machine productivity. RapidBend is compatible with most synchronised CNC press brakes* and in comparison to other light or laser based systems, RapidBend can reduce machine cycle time by up to two seconds per cycle. This represents a significant saving in operating time and cost.
*For retrofit applications RapidBend compatibility is dependent on machine type. Results may vary with older or conventional type machines.
AutoSense-SmallAutoSense
AutoSense is an automatic monitoring technology that tracks machine operation and performance in real time. AutoSense automatically monitors control commands, motion, direction, speed and stopping performance to maintain a high level of machine and operator protection. AutoSense also guarantees compliance with international safety standards that mandate automatic monitoring of machine overrun and safe speed.
Specifications
SENTINEL PRESS BRAKE GUARDING SYSTEM
CONTROLLER
Hardware CE Certified Category 4 Safety Controller with integrated force guided relays and encoder feedback system
Software CE Certified Kernel Software with application software interface
Technology RapidBend / AutoSense
LASER TRANSMITTER / RECEIVER
Laser transmitter CLASS 1 Dual planar laser
Receiver Multi-sensor photocell receiver
Optical range 14 meters
Object detection resolution 4mm
Connector type M12 8 pin
Tool compatibility V tools and non standard tools
Integrated status LEDs Transmitter status (power / laser A/B)
Receiver status (power / front/middle/rear sensors)
USER INTERFACE PANEL
Display 4.3" widescreen colour graphics display
Connector type M12 8 pin
MOUNTING BRACKETS
Vertical bracket length 700mm (other lengths available on request)
Vertical adjustment range 530mm (suits punch height up to 450mm. Other lengths available on request)
Horizontal adjustment range 40mm