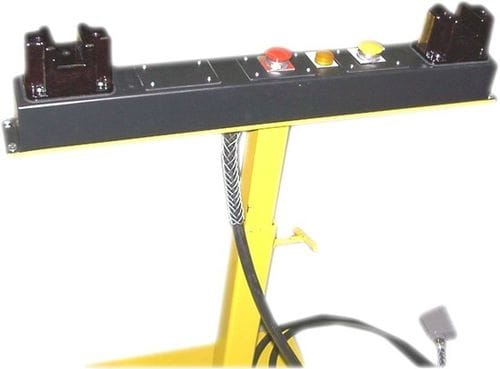 ULTRATOUCH PINNACLE
Item Code: ULTRATOUCH
The patented Ultra Touch (R) system had been designed as a direct replacement for standard spring-loaded mechanical palm buttons and is designed to fit into existing operator palm button stations without modification. CSA and UL certified.
The Ultra Touch enclosure is molded, high-strength NEMA 4 polycarbonate module designed to meet the high impact and vibration requirements of industry.
The circuitry of Ultra Touch is also designed to provide second-order failure protection providing an unparalleled level of safety and assurance against inadvertant actuation or failing in the "on" or conducting mode. The Ultra Touch is designed so that two modules, when spaced and located properly in accordance to OSHA and ANSI hand control distance formulas (the same formula is used for mechanical palm buttons), require the operator to accuate the switches concurrently. Ultra Touch provides an unparalleled level of ergonomic machine actuation while giving the operator the benefit of using the correct ergonomic hand position of neutral, 0 degree deviation, and 100% hand power.
NEMA 4 Sealed Housing
Solid State Circuitry
Dual Sensor Sources - Infrared/Capacitive
Module requires a 2" (51mm) mounting depth in run bar
Current Requirements:

110 VAC
2 pole -- 50 mA
4 pole -- 60 mA
24 VDC
2 pole -- 150 mA
4 pole -- 250 mA
Response Time
Operator Status Indicator -- LED's

A. Red - Ready to cycle
B. Green - Cycle initiated
Relay TypeCaptive Contact Safety Relay
Relay Rating - 8 amp @ 220 VAC; 8 amp @ 120 VAC
Relay Cycle Life

Mechanical - 50 million cycles
Electrical - 100,000 cycles at 220 VAC, 4 amp

Voltage Range - +/- 10%
Warranty - two years