AFK Series Roll Feeder
Item Code: AFK
Featuring Amada's original all-new G-Type CCS controller, the AFK roll feeder is designed for easy handling of small width coils.
Outfitted with a solid aluminum body, this machine gives a high degree of rigidity to the finished product.
Installation is easy, with two T-bolts on bolster.
Includes newly-designed G type CCS control
This product includes the cutting-edge G type CCS control, an even more sophisticated version of our popular F type CCS control. This enables the optimal assembly with peripheral devices such as reel stands, straighteners, and cutting machines. With a wide variety of functions, this is the ultimate compact NC feeder control unit.
Unique design with special care taken to provide peace of mind.
The motor has a brake to prevent coiled strips from falling out after the power supply is turned off, and an anti-vibration design is used to protect the machine and control panel from press vibrations.
High rigidity and simple adjustment of opening width
The integrated aluminum structure provides even greater rigidity, and this product can be easily attached to a bolster with two T-bolts. The opening width can also easily be adjusted by dial selection.
Dramatically improved specs
Functions added after the roll rift of the previous model have also been dramatically increased. The productivity has been increased from 150 to 200 operations per second.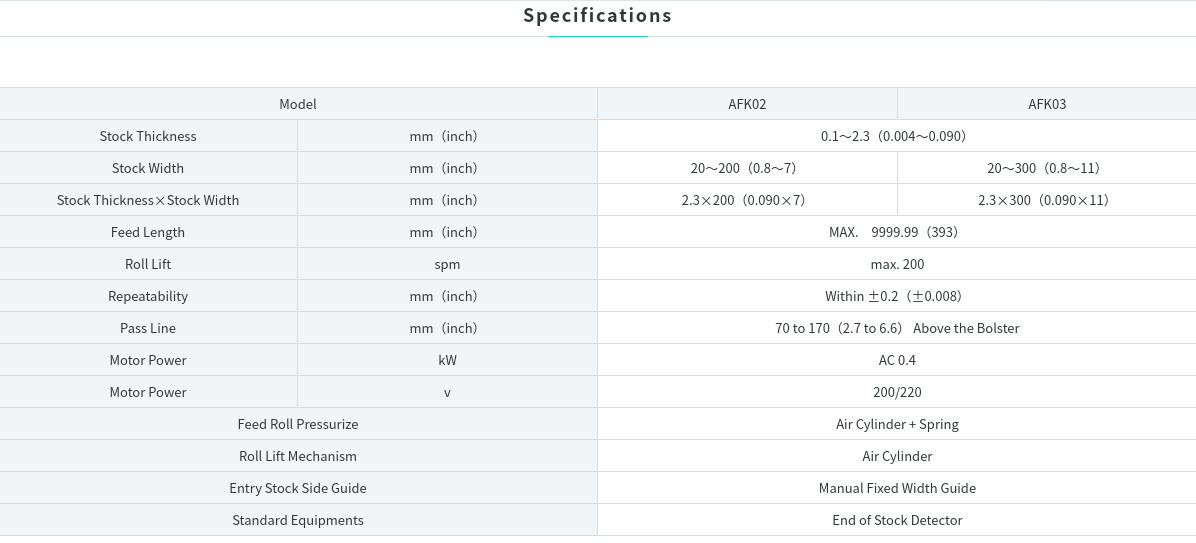 NOTE: 1. The stock thickness x stock width is for cases where the loop length is 3720 mm and the loop height is 950 mm.
NOTE: 2. Cannot be used for up loops.
Specifications are subject change improvement without notice.